INTRODUCTION
What I want to talk about is how you can use your smart phone to start a Mini Importation Business with as small as N10,000. (your last kobo).
Remember this
blog
is dedicated to helping you and Thousands of other Unemployed young Nigerian Graduates to Setup something for themselves at the lowest capital cost, we source for this informations online, from already made businesses,personal testimonies and ensure they are Authentic before bringing them to you for free. hence the name http://www.mylastkobo.com. In this Tutorial we will be Providing you with all the knowledge you need to setup your own Mini importation business Right from the comfort of your home with just your mobile Smartphone( preferably android)
THE CONCEPT
is to start small with your last kobo, importing and selling something very cheap that people need here and then sell for a reasonable price.
If you are looking for kind of business then this is not for you.
STEP 1. THINGS YOU WILL NEED/TOOLS
In order to use your phone very well to do this Business, you will be needing some software to be able to run this business effectively on your phone.
those who are waiting till they get a laptop before going into online businesses should stop wasting their time and try this one with their smartphone
Below are the software you will be needing to download ( click on them to go to download page)
Aliexpress
Mozilla
Skype
Whatsapp
OLX
MORE INSIGHTS ON THE TOOLS
ALIEXPRESS
I don't need to tell you much about this cause there are many free article on the internet about how to use
Aliexpress.com
click here to know more about
aliexpress
For those who don't know it is used to source for products in China. Visit the site to get the mobile app here
aliexpress

MOZILLA FIREFOX
this will help you to send and receive mail from your Chinese contacts also to help you do your research before importation. Download here
firefox download page

SKYPE & WHATSAPP
this is what you will use to communicate with your china suppliers after contacting them. Some use
Skype
while others use
whatsapp
. But all you need to do is ask them for their contact and they will give you the one they are using.
OLX
Me and you know that
OLX
is a classified Ads site where buyers and sellers meet to advertise their product for sale.
Now that you can afford N10,000 and you are waiting for your savings to get to N1,000,000 before you can start importation business.
Let me tell you why importation business is a very lucrative business that is capable of turning N10,000 into N300,000 if done properly.
• In a country of over 170,000,000 people that more than 85% of what they use on daily basis is imported.
• Look around yourself now and count 10 things you can see then check to know where they are produced from, you will be surprise to know that more than 7 are imported.
So you can see why I said that this is a sure business any one can venture into with as little as your last kobo and make cool cash if done well.
Back in the days importation business was the business for the high and mighty. if you are recognized as an importer then you must be a big man. No wonder you see these importers ride exotic cars in Nigeria.
But thank God today, technology has made it possible for ORDINARY people like me and you to be able to tap into this lucrative business.
Now off to Step2 shall we?
STEP 2. HOW TO GO ABOUT IT.
Like me, what I did was to look for small products that has lite weight and I know will sell here which also the cost of importing it and price will not be more than N250 so I sourced and saw this product.
FIX IT PRO (Car Scratch Removal) see picture bellow….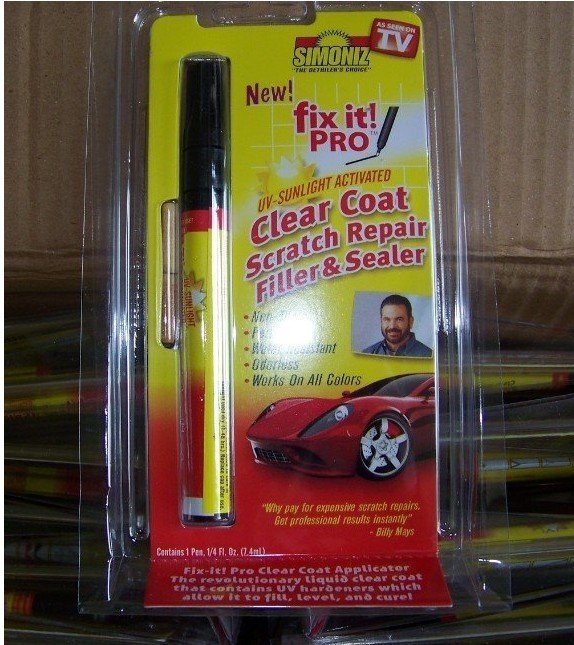 The total price for the product for both importation and shipping was N250 so I placed an order for 40pcs and within 3days I got my order here in Lagos and sold it online and to neighbors for N1,500, which took me 5days to sell up and I made N50,000 within 10days from this single one alone.
Imagine if you do this for 3 times in a month that is sure N150,000 every month.
Now tell me is this not a lucrative business that has a high returns? or is the price in dollar affecting my returns?
I laugh when people tell me they will not import anything until they have up to N100,000…. If you keep waiting for the Big capital before starting anything as a graduate then you may end up not starting up anything at all.
STEP 3. HOW TO SOURCE FOR PRODUCT TO IMPORT
When sourcing for product, I regard it as the 70% Job needed to be done in order to be successful in importation business.
I will do my best to give you the Formula for this Concept.
Formula
= (Find a PROBLEM + Make sure the Market is Big enough and CAPABLE) / Import The SOLUTION.
STEP 5 HOW TO FIND A PROBLEM
Use the forum and other social media and also watch TV and listen to Radio Programs where they discuss real life issues, ask questions; a friend of mine started meeting and making friend with new mothers with babies just because she wanted to go into that line of importation.Be Observant too.
STEP 5.
HOW TO SELL
Selling is simple when you have a ready market that is capable of spending to get what you are offering as long as it will help them by solving their problem. thats why step 4 was the most important step. if your product does not solve an available Nigerian Problem, then you will find it difficult to sell that Product in Nigeria.
Below are places and tools you can use to sell.
• Konga
• Dealdey
• OLX
• Your Neighbors
• Retail Shop Owners
create your own makeshift shed to display your products in the neighbourhood
drops adverts in social networks like Facebook, twitter,instagram and watsapp,
Go to offices during lunch breaks to show them your products. (pls ensure you take adequate permissions from the necessary authorities, it is better if its a place where someone you know works, so you can call him/her to show you in. )
picture of a typical makeshift shop.you could try something like this and invite people to see it.
the above is all the info that you will be needing for a start. drop your questions and suggestions in the comment box.